I pulled this report from another forum i'm on.
Evening all Retro chaps and chappettes
as some of you know I purchased a 25 v6 turbo a few weeks back, I was debating rehousing the engine in another 25, but i'd rather retain the original shell even though it is a bit tatty!
Last week I got about actually moving it out of the garage and giving it a quick clean on the interior, I don't have a wet vac so ended up cleaning it by hand with Dettol Mould/Grime remover and some 1001, came up ok! but its very very aged and the bulk of it needs replacing.
I vacumed most of the leaves and crap out of the bay
Dirty interior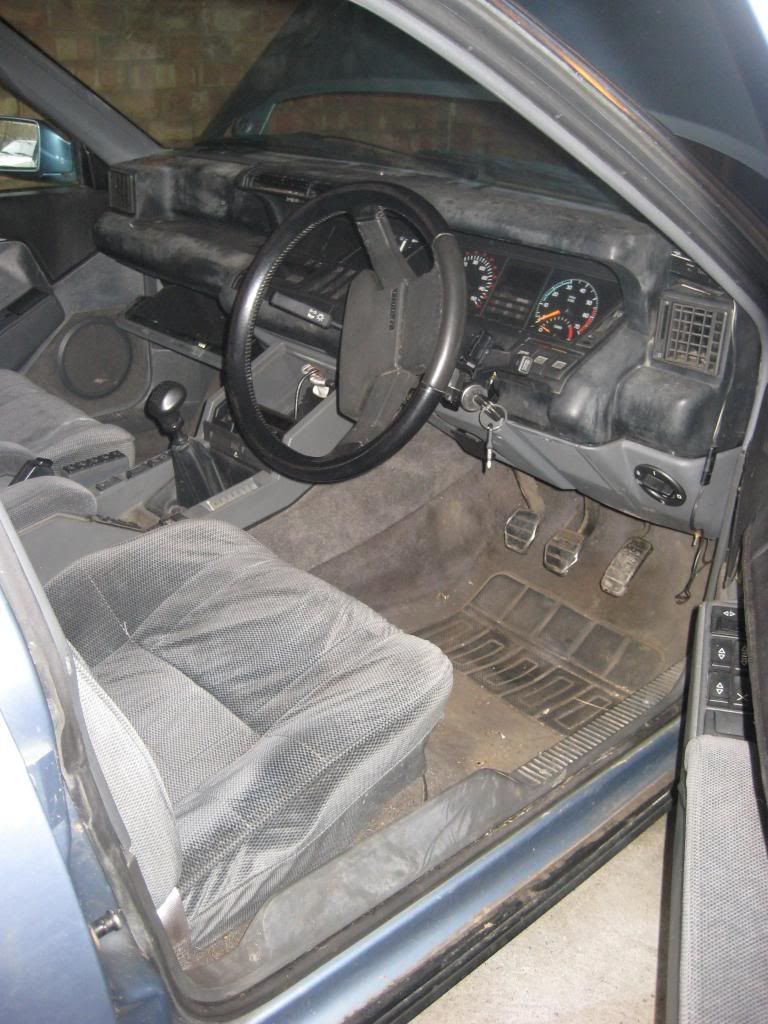 1001, some great stuff, sadly still filty in the car but a whole lot better
During the clean: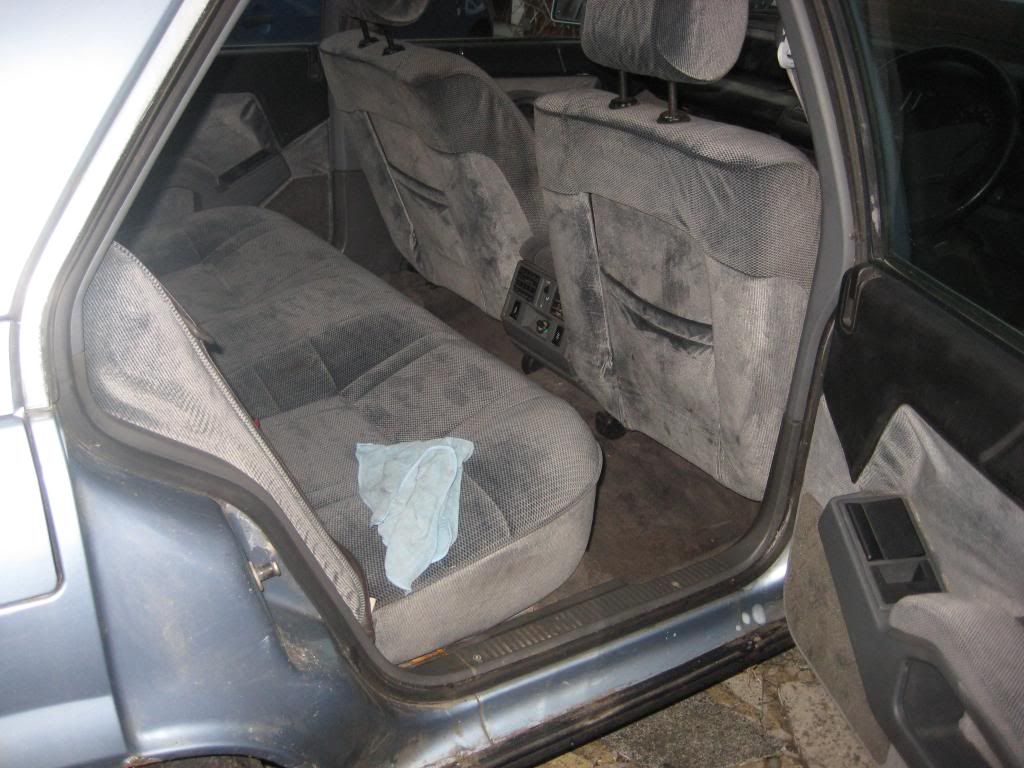 80s/90s fox alarm, disconected what was left of it and took it out
carpets still dirty after a vacuum/1001, really need a vax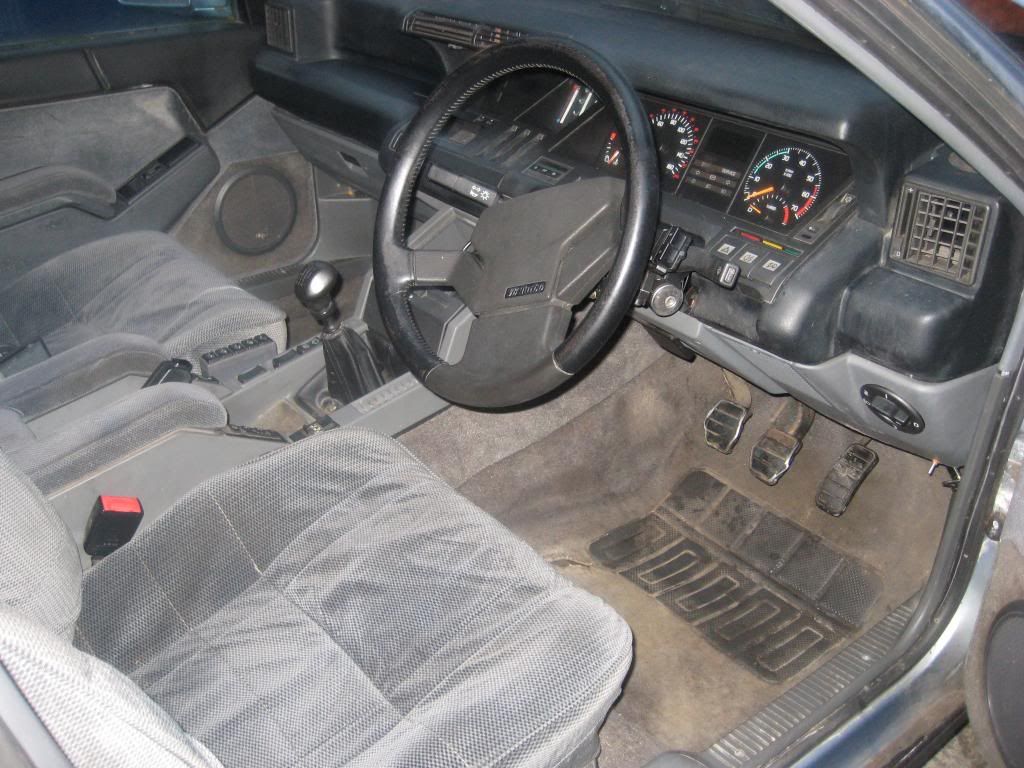 no crappy alarm!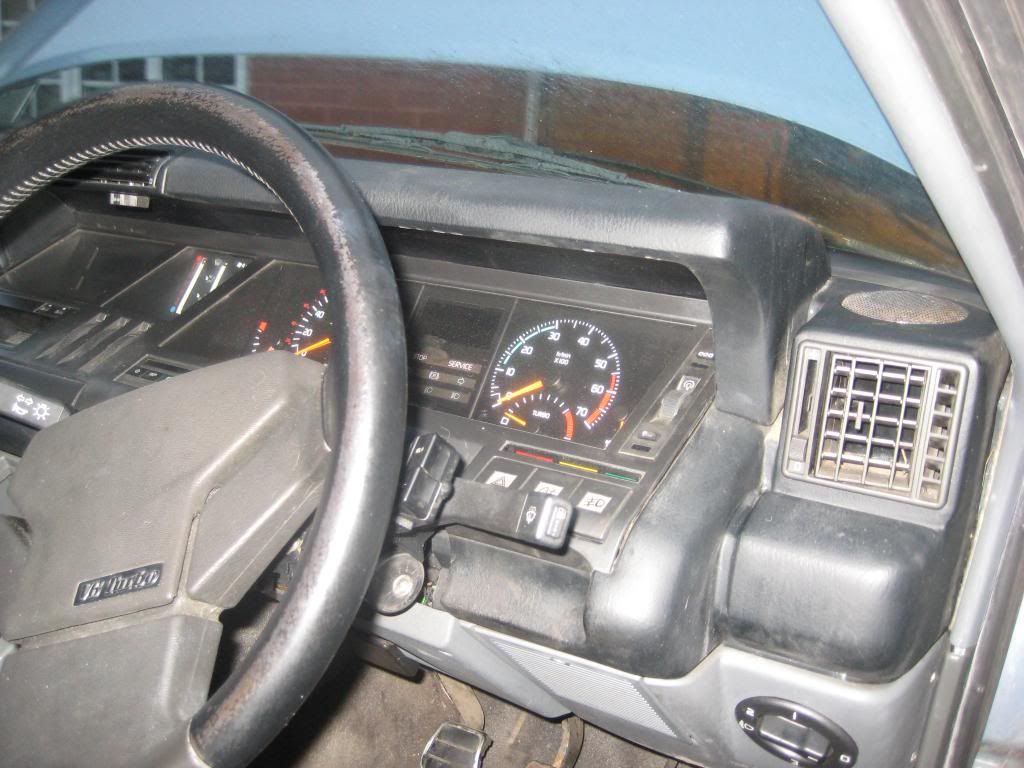 The car is fairly straight, got a few dings in the rear 1/4s to sort and a bit of rust on the arches, and a little around the windscreen
Took it for an MOT last thursday
Got an advisory on the headlights and a few other niggles:
Today I set about sorting out a radio. The car had no radio present in it when I bought it, and I had an old sony unit laying spare, wiring it in wasn't too much hassle, the real hassle was trying to push the loom up and around etc while I pushed it in without damaging it! its a very tight fit behind, managed to get the bulk of the wiring to sit behind slightly above the unit, din pocket will be going in there aswell.
Found this in my drawer:
Not strictly period correct but its going to good use:
the to do list for the car:
I've sourced a donor car with a full interior, so going to get everything I need from that, my interior needs new parcel shelf supports, boot carpet and door cards, but will end up replacing it all.
Exterior I may replace the rear bumper and ditch the tow bar. Needs the rot attending to, will just tidy it up and rattle can here and there and give it a good polish, give the car some patina!
I've also sourced the correct dual beam headlamps for the car, the tester passed my car despite a minor niggle with the headlamps on the basis that I am changing these soon!
Prab
Just a small update
Some goodies arrived: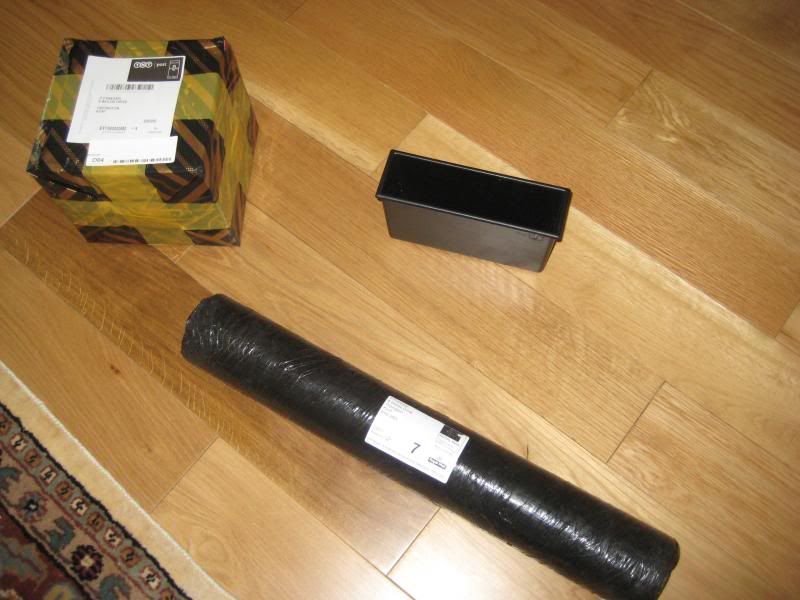 Induction kit, note the rip off logo lol
Nice and big:
Alloy pipe: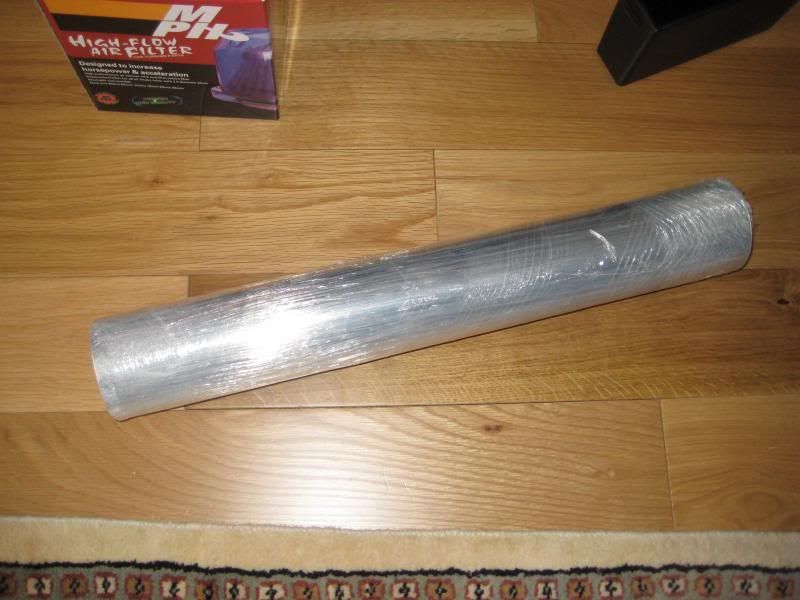 May do some work on it a bit later today, otherwise will probably be next week, will probably fit my old boost gauge i've got laying spare
Prab
26/3/13
Just a small update, nothing too interesting. The blue 2.0 TXE that wil be donating an interior and other panels/odds and ends is finally being stripped, the cars up in sheffield and a mates picking up the parts from it over easter.
In the mean time managed to grab some new keys
£11.50 for the door key and a fiver to get an ignition key cut locally
I needed a din pocket but there was a joblot on ebay for only £2 more then the cost of a single pocket so modified one of them to house a boost gauge I had laying spare.
Will mount it above the radio once I run the wires and find a grommet to push the vacum pipe through
Prab
27/3/13
Small update, had a spare half hour earlier so fitted the din pocket and ran the vacum tube up behind the centre console and will find a gromett to feed it into the bay eventually!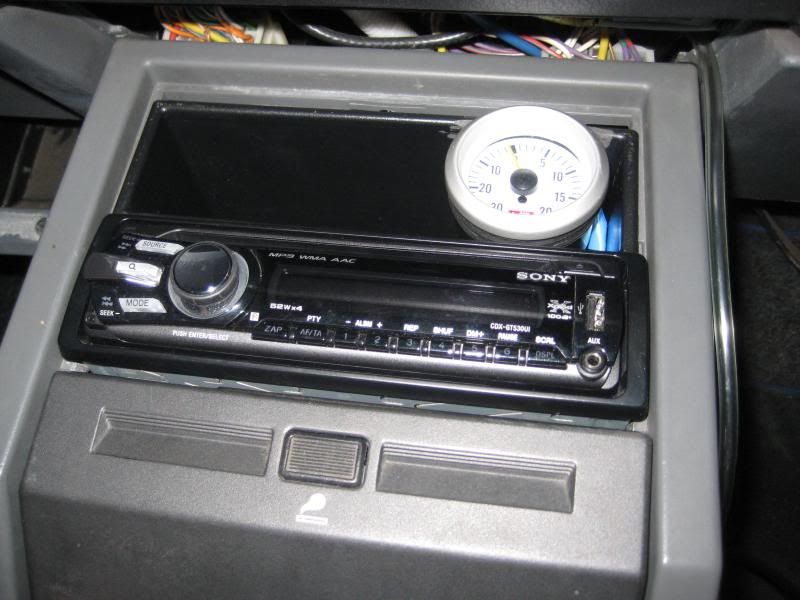 illumination comes on with the lights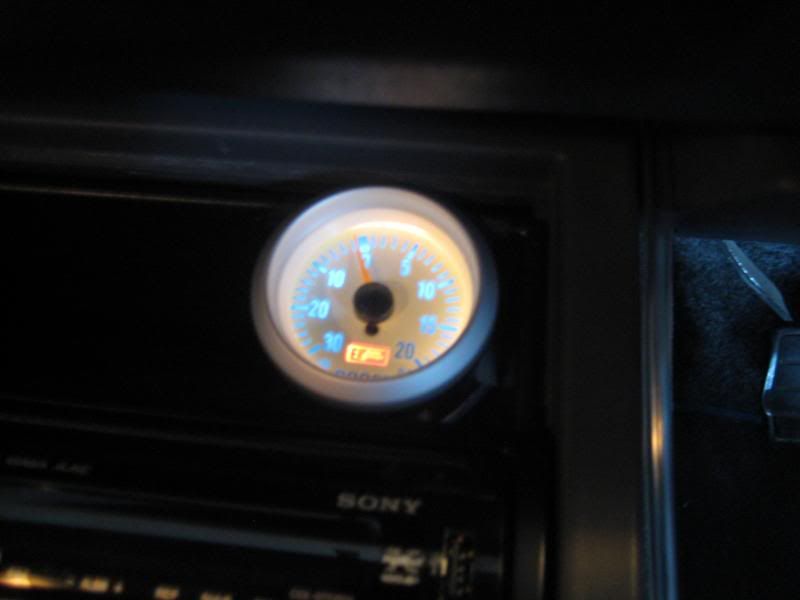 Prab
01/04/13
Just another small update.
Cut the alloy pipe down to size and fitted my induction kit
Makes a lovely noise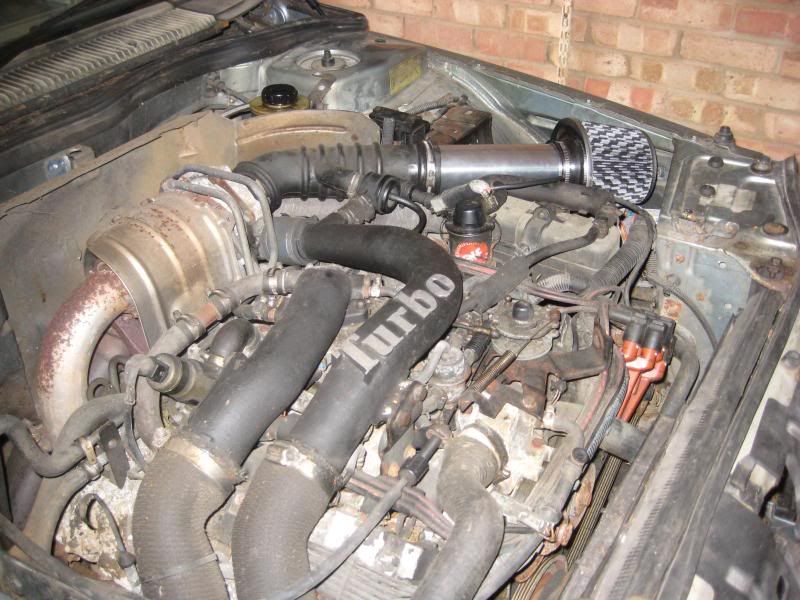 Expect some big updates end of this month, I have allot of parts arriving from a 25 thats being broken up norf!
Prab
10/4/13
Small Update,
This arrives yesterday, excellent service from carpartssaver
Out with the old (varta calcium battery, calcium batterys are difficult to charge and not really the best on older cars)
In with the new, the car starts first click, I always thought I had a weak starter aswell as battery but this battery just makes light work of starting the car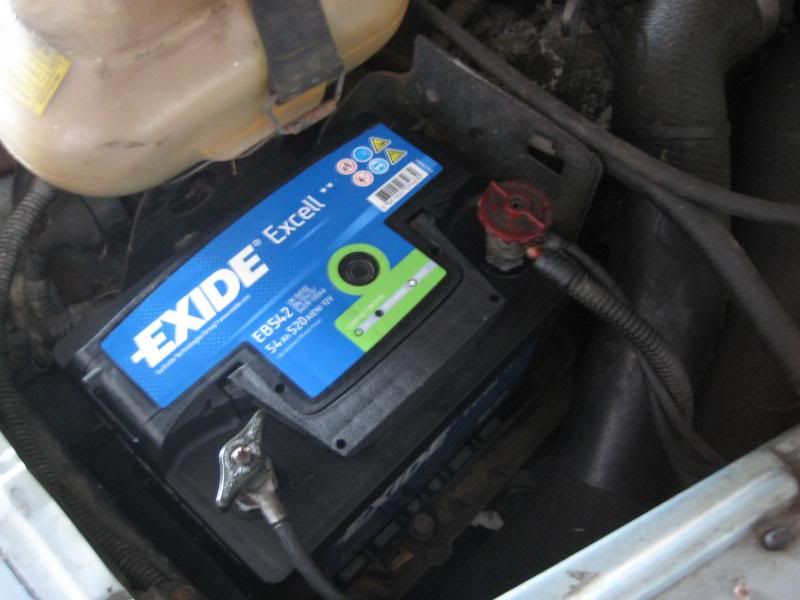 Prab
19/4/13
Small update.
Managed to fit the dual beam lamps I bought from a mate/25 nut, admittedly they are not in mint condition but are an improvement over the incorrect single beam units that were fitted.
Removing the old lamps was not too hard but getting the new ones in we're a right bar steward
The car has also had a cooling fan failure in the past, so I only have the one instead of the two. I'll see how well it runs on just having one but will be sourcing the second one when i get a chance!
Need to adjust how they sit a bit:
This wind deflector is fugly and was bugging the hell out of me
Removed it, but when I wen't to remove the brackets (they are held in the sunroof channel, I discovered the sunroof does not work! must rectify this
Thats all for now, getting some more bits to get on with next weekend!
Prab
22 April 13
Another small update.
I have a spare bumper in as new condition, and a mate of mine wanted the tow hitch, so I pulled the old bumper and tow hitch off. Next job is to repair the small bits of rot I found behind, and also order up some new brackets and bits and bobs to fit the replacement.
I don't think I trust this as a spare!
Prab
23 April 13
Started treating the rust, found some Rust treatment Gel, Anti Rust primer and some paint and underseal in the garage, will probably finish this up tommorow.
Applied the gel (topping up every 30 minutes)
Measured some pipework and the radiator inlet/outlet, so I can order some silicone pipe to replace the bodges that are on the car:
Hazaa, with some persuasion the sunroof opened and I was able to finish removing the Wind deflector brackets
Thats all for now, no doubt more updates at the weekend
Prab
28/4/13
Quick update, on friday I treated the rear valance and primed it
Sanded back the areas surrounding the rust and also treated and primed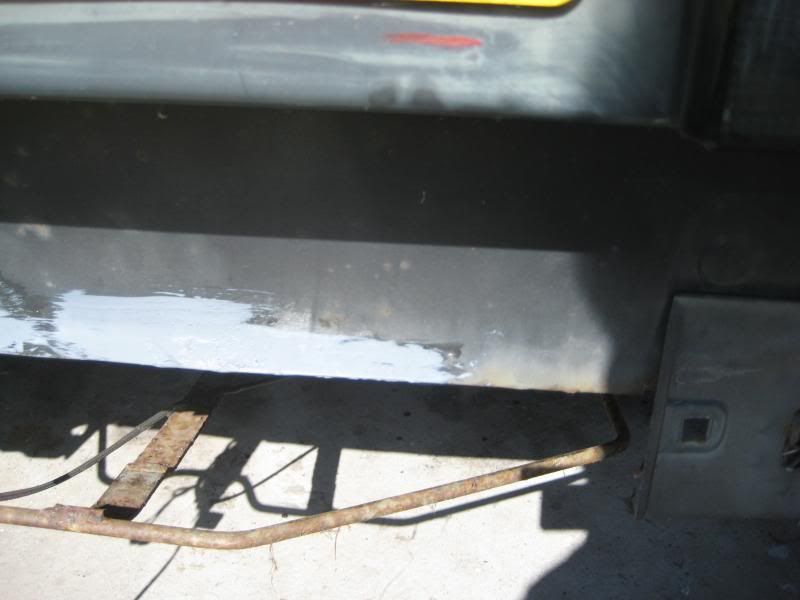 My bumper bolts were delivered from renault aswell: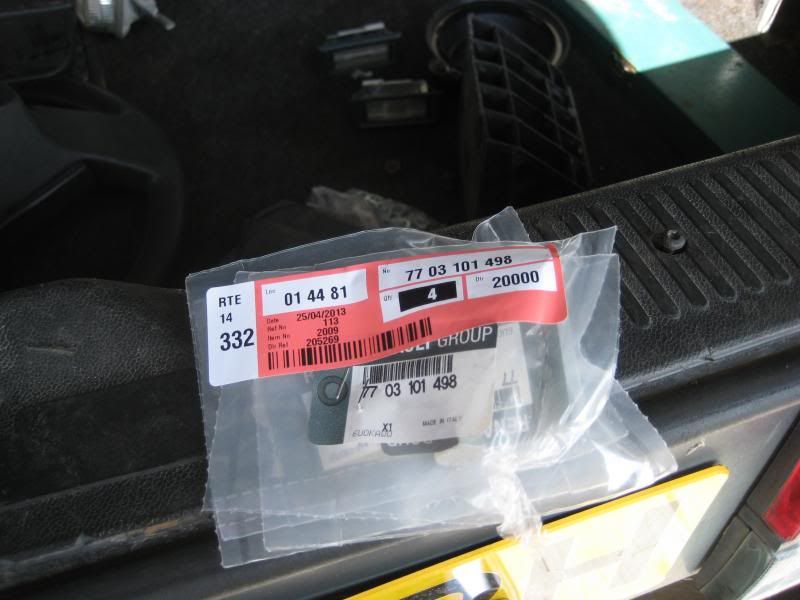 And yesterday was the Annual General Meeting of the Renault Owners Club, and while I was there I took delivery of my leather interior from a mate who went to strip it off the car and deliver it!
Folded the seats flat and loaded up the garlic barge
Front seats and console
Box full of all sorts of interior parts
Popped the rear bench into the back of the v6t to save room in the garage, i'll be fitting it soon anyway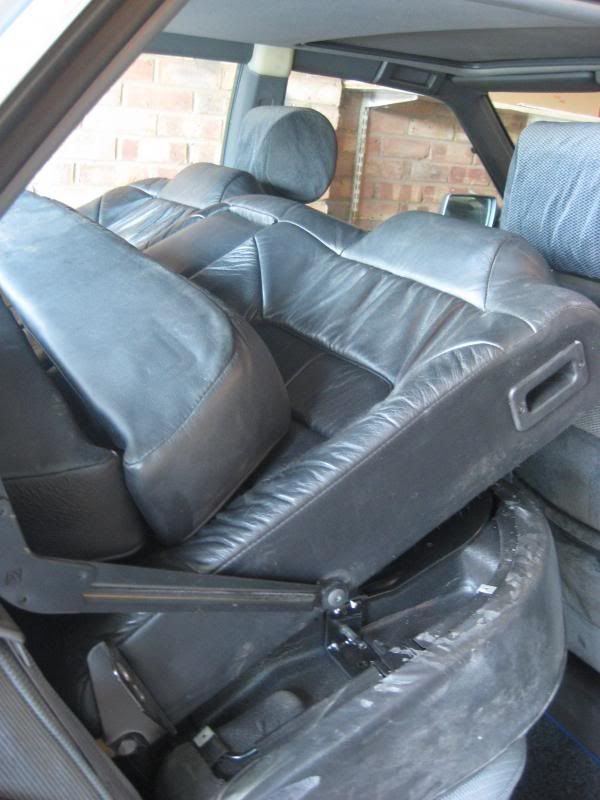 Sprayed up the rear valance/panel
Better picture of the front seats and cards, just need a clean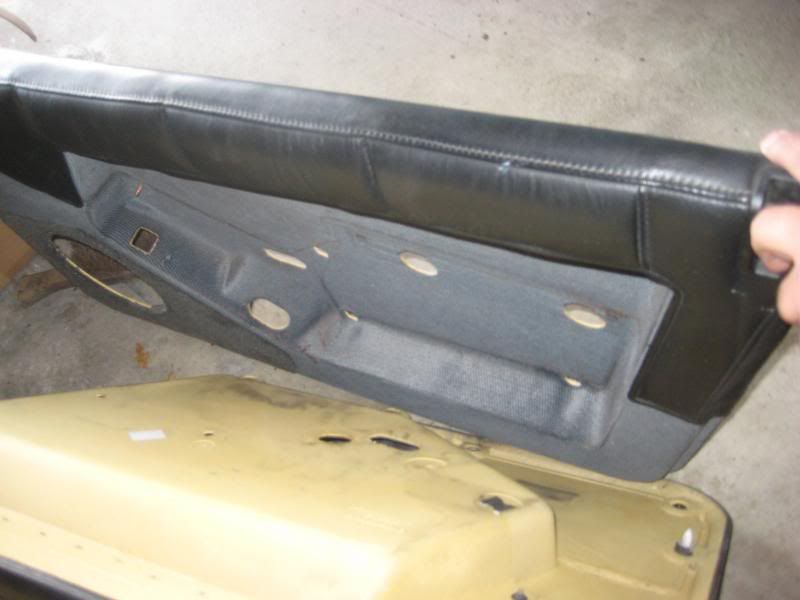 I'll be fettling and getting on with bits and pieces over the next few weeks, thank god for longer daylight hours!
Prab
29 4 13
Another update guys, things are progressing quite well
Fitted my replacement rear bumper today, and had to use post 90 spec mounts (these are much better anyway)
Removed the chromes off of the old bumper
Bumper is on
Tatty broken old thing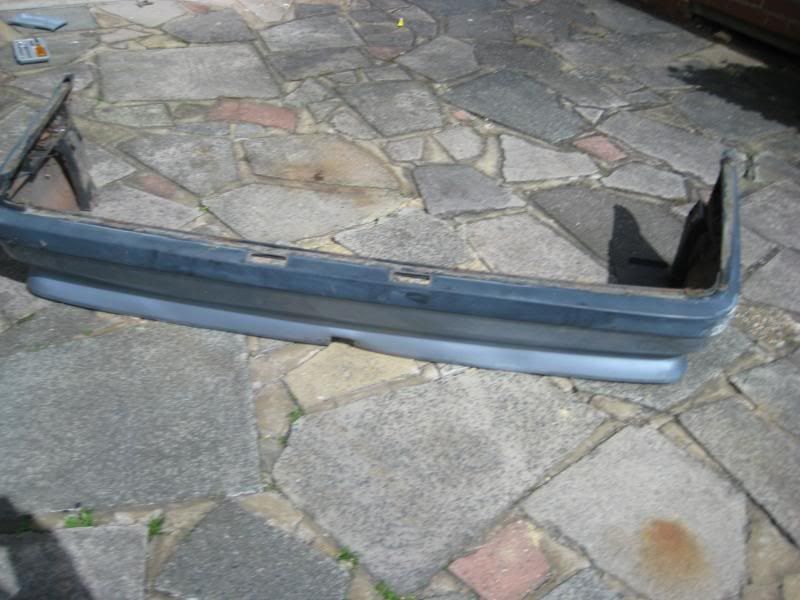 Got the rear leather bench in
Removed the temporary rear view and fitted a propper one!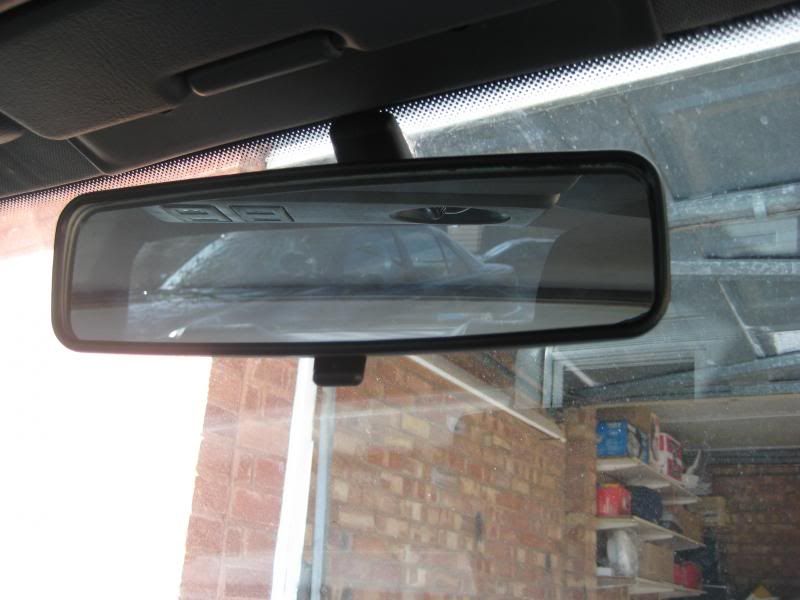 Loaded up the garlic barge with the old rear bench and bumper to take down to the tip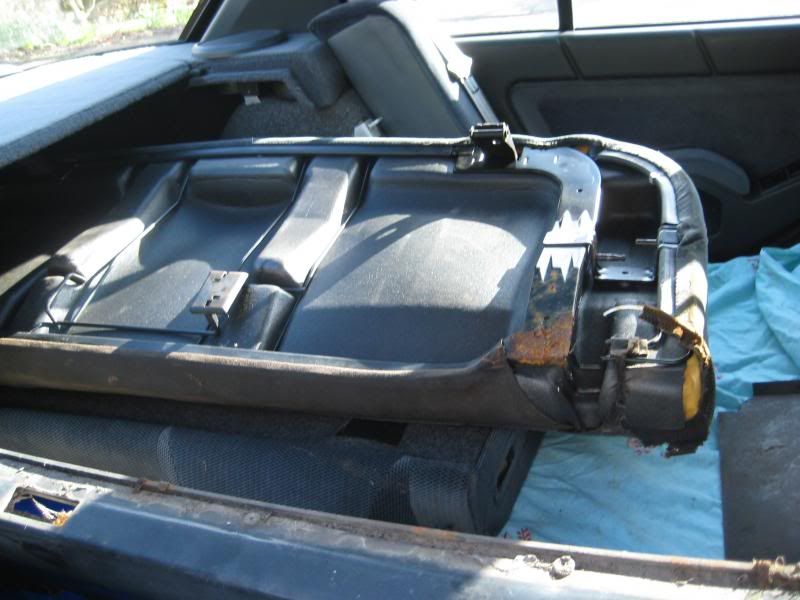 Will probably get on with some more work depending what time I get home tommorow!
Prab
30th April 2013
Swapped out the door cards and while they were off tried to lube up and free the window runners a bit, they work now, still very slowly.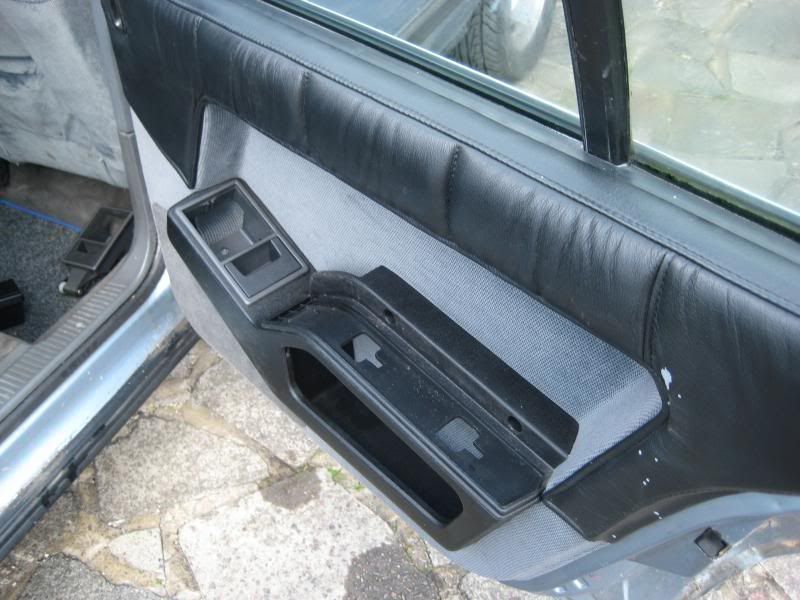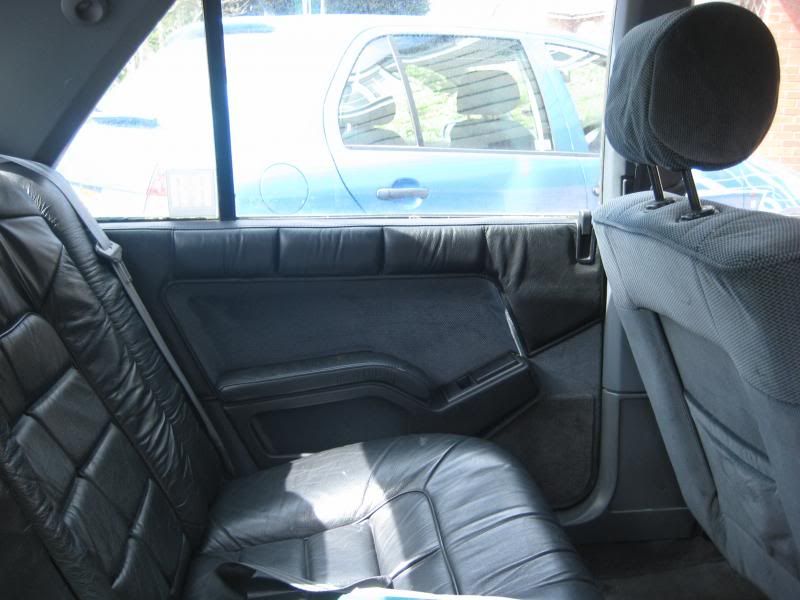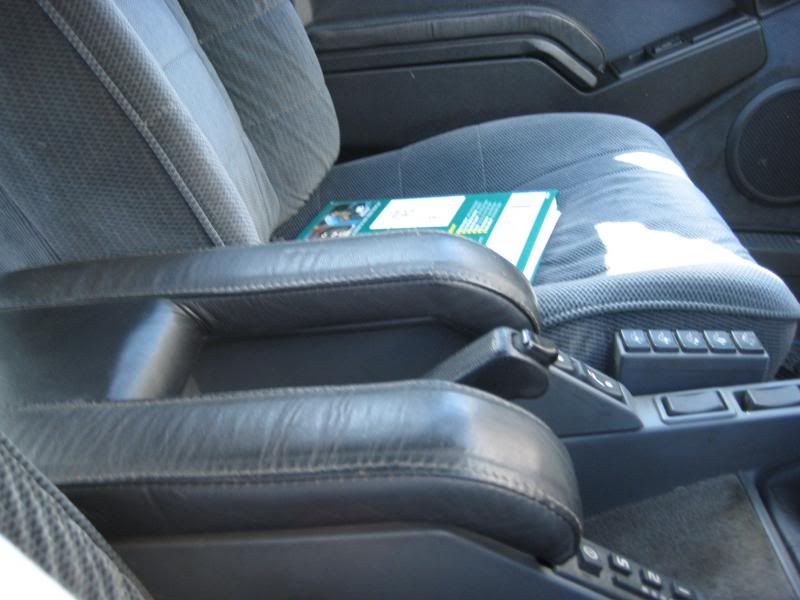 The local trim shop quoted me £140 to transfer the leather covers from the exec seats onto my ergo seats, I think I will probably do that as i don't want to lose my quirky air inflation lark!
And finally, to sleeper or not to sleeper?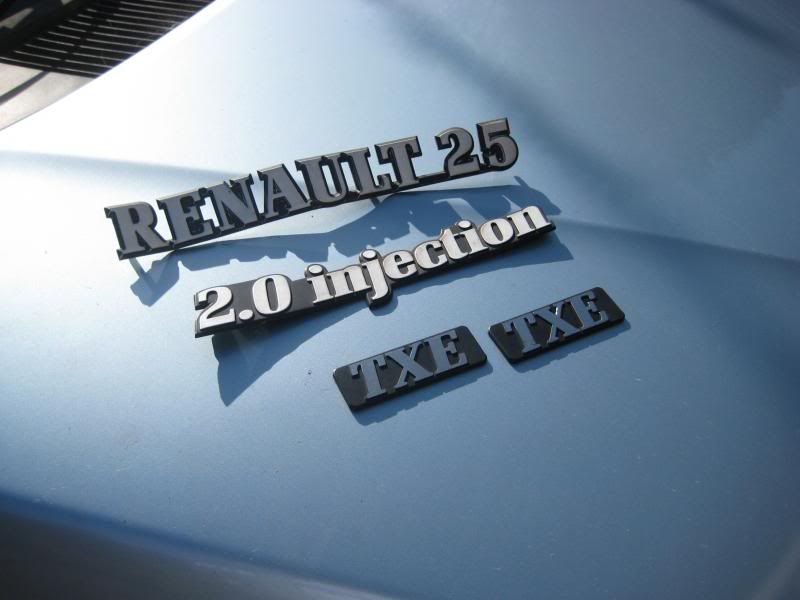 Prab
3rd May 2013
Small update.
Set about removing the old spoiler, what an absolute coont that was! two of the bolts plain out refused to budge and I had to use all sorts of things to get them out!
Drilled the holes for the new spoiler
Trial fitted the spoiler, need to order some JB weld and paint before I fit it properly.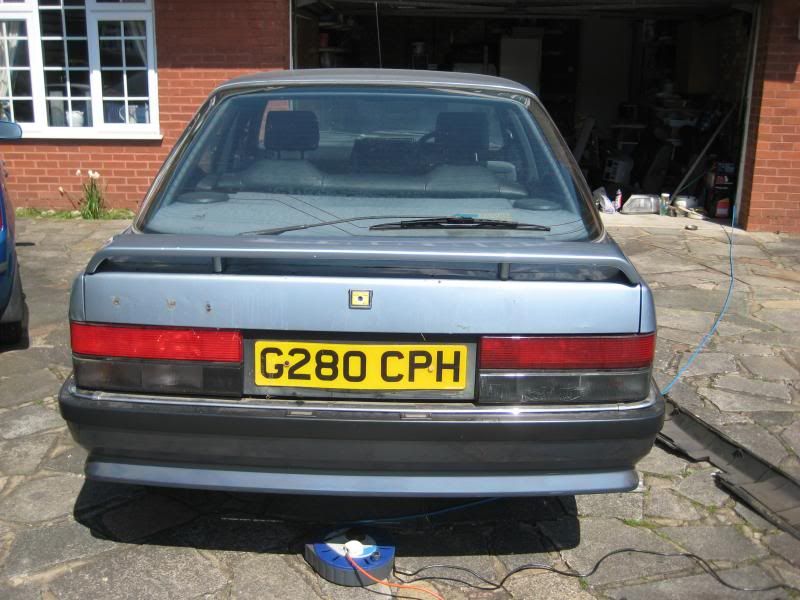 The mismatched rear lights were bugging me, turns out the discolouration on the old light was due to water leaking in
Thats better
Cleaned the interior, did the dash headlining, windows, plastics etc etc, and then fed the leather, all that remains to do apart from replace the front seats is give the carpet a vax
Prab
4th May 2013
Well I set about beginning to fill my spoiler holes, i was deliberating over using jb weld and sanding down or putting something behind and filling on top.
I decided to araldite some 2ps behind the holes so I have a nice solid base to filler over, gutted that I wasted 12p!
Voila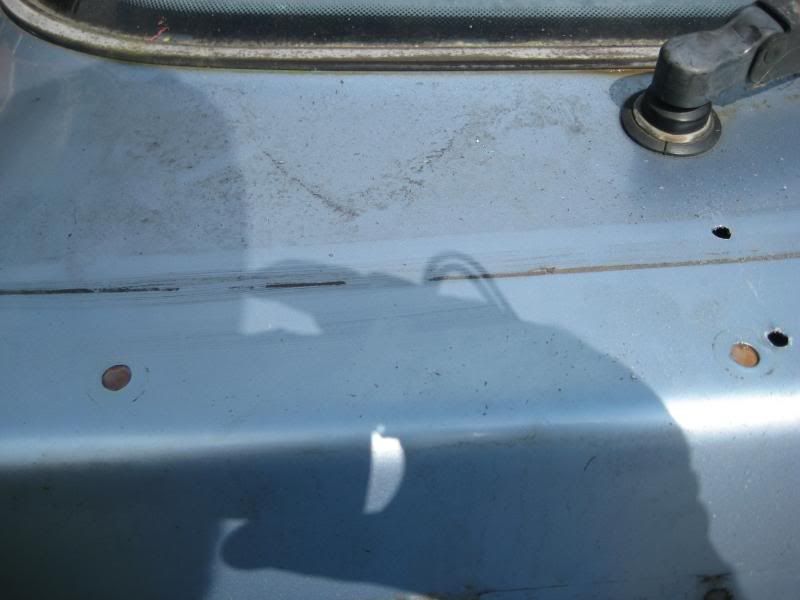 Prab
10/4/13
Quick update
Set about sorting the nasty dent in the rear 1/4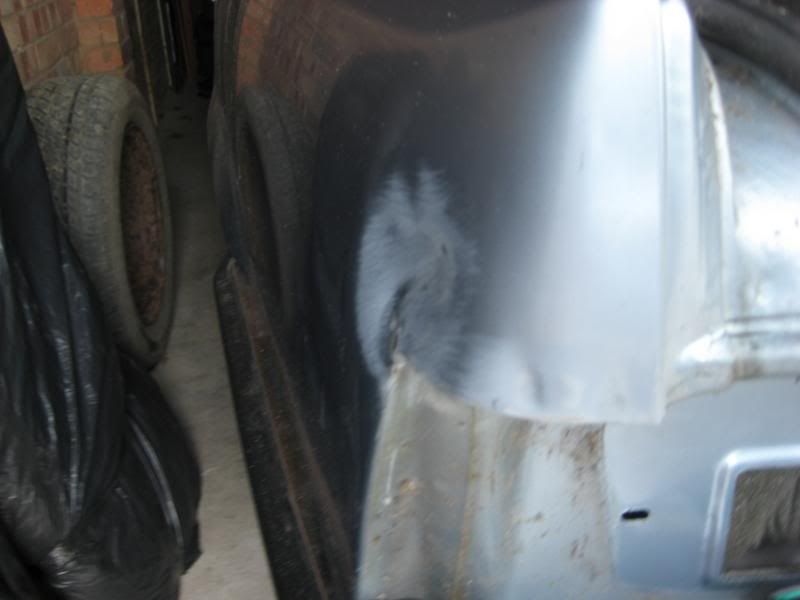 As edd china says a golf ball of filler to a pea of hardener!
Primed
Painted (not the best finish, my prep was wink but this will do till a propper respray)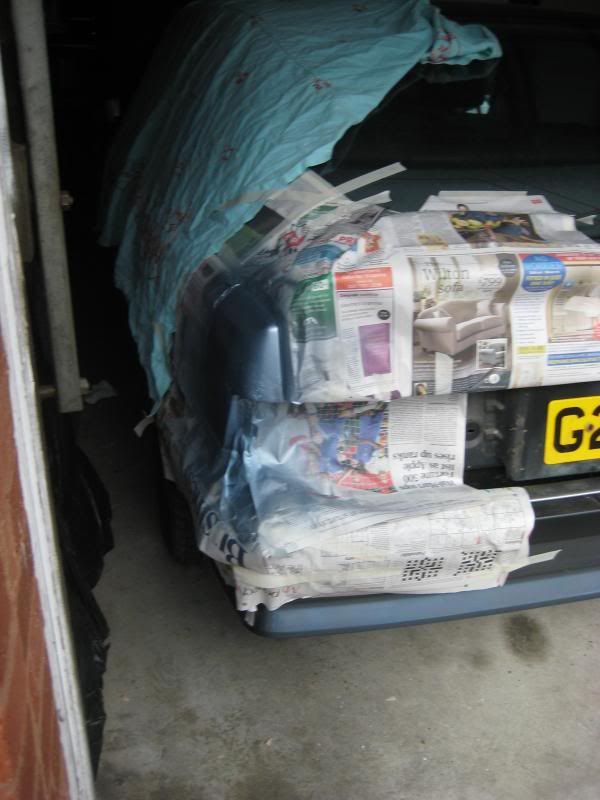 Prab
17/7/13
Quick update.
Gave it a service a few months ago, oil, filter, new thermostat, new rad fan switch, only for the old radiator to fail completely. Was a good excuse for me to change it along with all the bad bodged pipework as it was clearly the wrong rad for the car!
Sourced a new inlet hose as the old one had a split in it and was 'repaired' with duct tape.
Old bodged rad and rad 'hose'
New inlet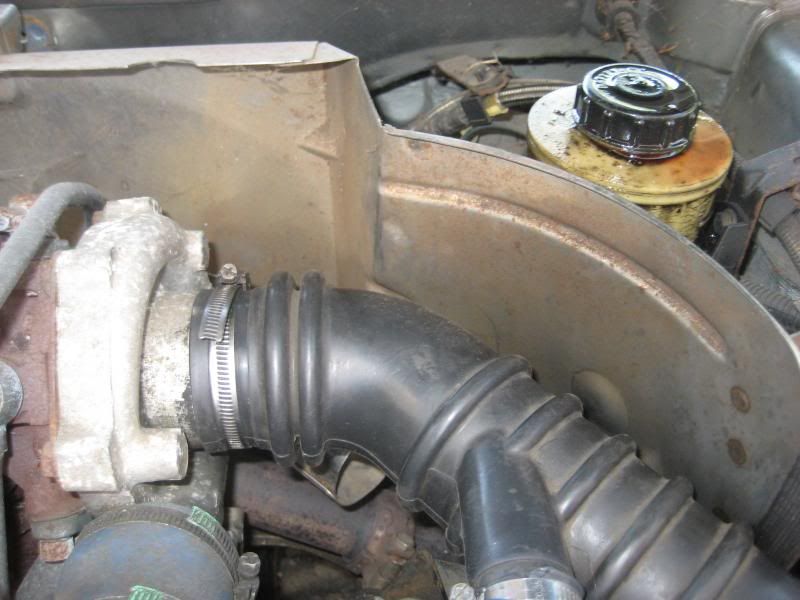 Had this Dump valve laying spare so I thought why not!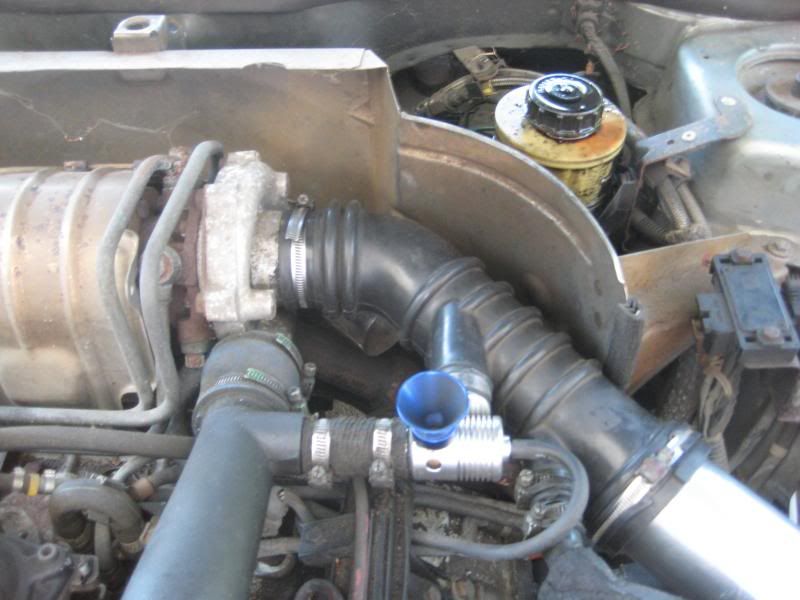 Replaced my headlight stalk, as the old one was knackered and would not select high beams, new one working a treat
A cooling fan sourced from ebay, as my car was missing one of the fans!
Out with the old
In with the new, along with a second hand but good condition hose
Only the best for the oul girl, not expensive either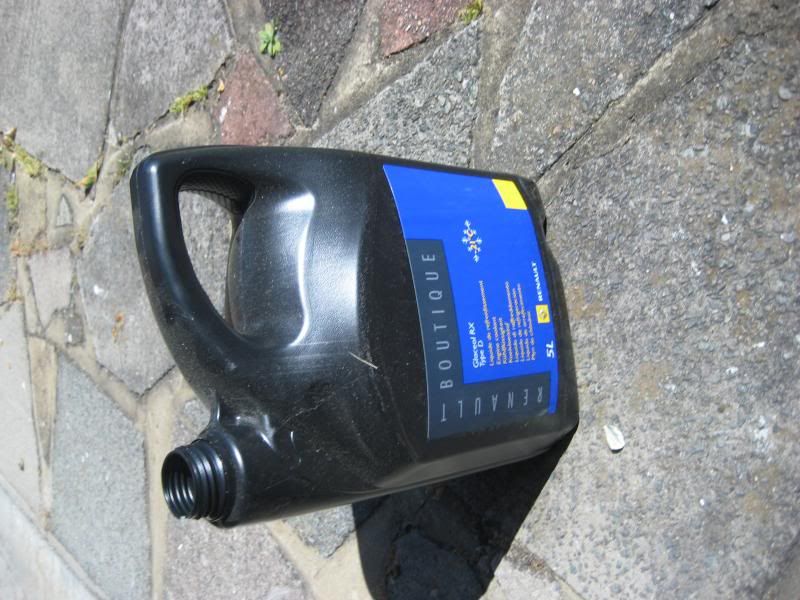 Thats all for now folks, after pay day i'll be renewing the entire braking system
Prab
Well she's now taxed, and I took it on an extensive test drive in town and down the lanes to test it out. Boy does she motor!, Still got a few things I need to sort, a little bit of welding before the next MOT, and i'm still going to completely overhaul and upgrade the braking system. As she was sat for so long she looked tired so gave her a quick jetwash before I got home
Lets Just say allot of cars got their arses handed to them today
Prab